When starting a new project, one of most common issues is trying to reduce costs by choosing low cost materials. Material selection can hinder the development of your project if not chosen properly.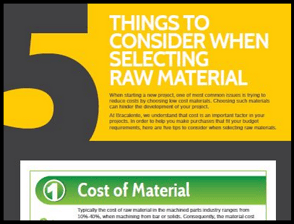 Bracalente Manufacturing Group has years of experience with material selection for contract manufacturing. That is why we have developed an informative infographic to enlighten our readers on what we believe to be the top 5 things to consider when selecting raw material.
At Bracalente, we understand that cost is an important factor in your projects. However, did you know that other major factors besides cost that should be taken into consideration?
View our infographic by clicking here or on the image above!
Don't forget to grab our guide, The Power Of Material Selection: Selecting the Right Material for Your Project, for more helpful tips and information on raw material selection.
Have more questions? Bracalente would be glad to assist you with any of your material questions – contact us today!